Film Club

Film club shows films on the Big Screen in the Old Church Rooms in Radyr. Films are usually the Fourth Thursday of the Month at 19:30 and cost just £4.00
To be the first to know join our Mailing List It costs nothing and ensures you will be the first to hear about our next screenings.

Our next films
Booking is now open for the Autumn 2019 season.
Kind Hearts and Coronets (PG)
Thursday 24 October 2019 at 19:30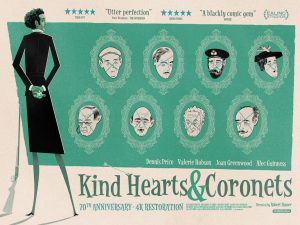 When his mother eloped with an Italian opera singer, Louis was cut off from her aristocratic family. After the family refuses to let her be buried in the family mausoleum, Louis avenges his mother's death by attempting to murder every family member (all played by Alec Guinness) who stands between himself and the family fortune. But when he finds himself torn between his long-time love and the widow of one of his victims , his plans go awry.
As a celebration of this classic Ealing comedy reaching 70 years young, we invite you to introduce this stone-cold classic to old faces & newcomers alike. Sir Alec Guinness' hilarious multiple personalities never fail to raise a laugh and we think it'll evoke positive memories of a classic era for British comedy. They don't make them like this any more!
Tolkien (12A)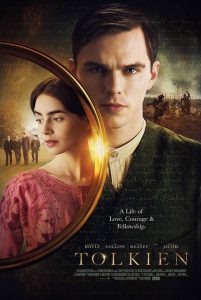 Thursday 28 November 2019 at 19:30
As a young student, J.R.R. Tolkien finds love, friendship and artistic inspiration among a group of fellow outcasts. Their brotherhood soon strengthens as Tolkien weathers the storm of a tumultuous courtship with Edith Bratt and the outbreak of World War I. These early life experiences later inspire the budding author to write the classic fantasy novels "The Hobbit" and "The Lord of the Rings".
Nicholas Hoult moves away from his superhero roles to take on a more serious character. Not without its flights into fantasy, Tolkien aims to tunnel through the prose and link his novels to real-life occurrences to discover the inspiration to his cherished works. With popular actors in the central roles, Tolkien has appeal outside of literary circles.
Book Now
Book now using our online system – http://ticketsource.co.uk/rma
Tickets are also available from ener-chi in Station Road, from Nick Hawkins or from Allan Cook.